South Wales Cricket Association
Established 1926

Obituaries
David Alan Williams
Pontardawe Cricket Club
Pontardawe Cricket Club suffered a sad loss in the passing of Alan Williams at the age of 69. Alan, or "D.A." as he was affectionately known, played for the club throughout his career before becoming a Committee Member and subsequently Club Secretary, a role he fulfilled with great dedication and passion.

For the last number of seasons Alan umpired the second eleven matches both home and away accompanied by his devoted wife Ann who took on the scoring duties.

Last season due to ill health Alan reluctantly stood down as umpire and Secretary. The club immediately bestowed him Life Membership for his outstanding contributions in so many areas.

Alan will be sadly missed.
Eifion Cuke
Clwb Criced Bronwydd
That much favoured spectator seat under the David Evans Memorial Tree near the clubhouse at Cnwcyderi Bronwydd, was much quieter last summer. Its occupants, elderly, experienced and observant, now watch the game amidst quiet and considered observations, once more. The eloquent, ebullant, white haired, Eifion Cuke is no longer with us.
A ploddingly slow batsman, the errent erratic bowler, the slipshod fielder, or seemingly one-eyed Umpire, all at some point or other, suffered Eifion's vocal wrath. Much of it was purely in jest, and match over, he'd be the first to shake hands, buy the victim a drink and become firm friends at the Bar.
He was also an unusual Bookie, whose generous odds always ensured a queue at his Pitch in any Race Meeting; be that at Tregaron, Hereford or anywhere else. Eifion was big in Racing and a regular on S4C's Rasio, long before settling at Bronwydd in the 1990's. When he did, he became a massive asset to Clwb Criced Bronwydd.
His input was threefold. His voluble support on Match days has already been noted. Eifion devoted countless hours to the upkeep of thge ground, cutting the outfield and rolling pitches. Prehaps his major contribution lay in his financial support. Always a generous sponsor, he'd out- bid anyone for any old item at a sporting Dinner, and on fundraising he ran many a Race night, making sure he had a spending audience. Then when Cnwcyderi field was being bought he secretly ensured a large financial contribution from a secret celebrity donor.
Some losses are irreplacable and this is certainly one . Eifion Cuke was a true friend whose eloquence and generosity shone brightly.
John Maclean
SWCA President/Pontarddulais C.C.
John Duart Willard Maclean was born on 18 August, 1931 and died on 20 August, 2017
Born in Swan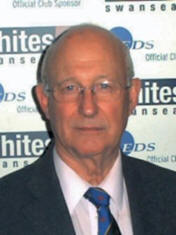 sea, he was educated at Blundell's School where he played in both the rugby and cricket 1st teams. A leading businessman in the steel industry in West Glamorgan, he acted as the county's High Sheriff in 1995. At his death on Sunday, 20 August, two days after his 86th birthday, he was President of the South Wales Cricket Association, Pontarddulais Town Band, Hendy RFC and senior Life President of Pontarddulais Cricket Club.
John's association with Pontarddulais Cricket Club began in the 1960s and he became the club president during the 1970s. He was the clubs president for over 25 years until he was elected as senior life president of the club. His experience within the business world benefited the club immensely. He rarely missed a club function or AGM. He became the South Wales Cricket Association President at the 1986 AGM until his passing. John was a terrific public speaker. His presidents' address at Annual General Meetings over his tenure will be remembered by all.
Whilst he had a close and distinguished career as a cricket official, John Maclean was also a true legend within West Walian rugby circles.
He played at outside half for Swansea before turning his hand to coaching, firstly at Hendy and then at Llanelli, where he took over as coach at the start of the 1978/79 season, steering the Scarlets to three successive semi-finals.

He was in charge of Llanelli for 213 games between 1978 and the end of the 1981/82 season. John was also elected chairman of Llanelli RFC in 1991, a post he would hold for 3 seasons.
Matthew Davies
Pontarddulais C.C.
Matthew John Davies was born on the 25th of October, 1949 and sadly passed away on the 18th of October 2017.
Born and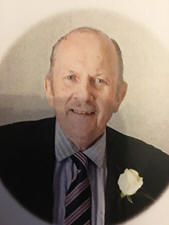 bred in the Bont, Matthew was a gifted all round sportsman who excelled in many sports. He was part of a special group of sportsmen who have played 1st team Cricket, Football and Rugby for the Bont.

Matthew was raised in Williams street right next to the ground and his association with Pontarddulais cricket club started at a very young age where he played for the 2nd XI at the age of 9 back in 1958. He made his 1st XI debut again at the tender age of 13 in 1961 under skipper Gerald Evans.

Matthew was a talented and powerful middle order batsman and a terrific fielder be it close to the bat or patrolling the outfield. His talent was matched by his longevity as he was a member of the 1st XI for over 30 years.

Matthew played a key part on the administrative side for the club joining the management committee as a player's rep at 15 years of age. In 1980 until 1999 he served as the club's assistant secretary and fixture secretary working alongside Hon. Club Secretary Selwyn Mathias. Matthew replaced Selwyn as the Hon. Club Secretary in 1999 and served in that position for 11 years. Matthew and his wife Sandra also served as the club stewards from January 1990 until the winter of 2003.

Matthew served the club's management committee for 53 years. The words "Chwaraef fy Rhan" (the clubs motto) are truly fitting to describe Matthew Davies as not many have played their part for Pontarddulais cricket club like Matthew.

Ann Wanklyn
Maesteg Celtic C.C.

Sadly, in Jan 2017 Ann lost her short battle with illness

Daughter of International Rugby Referee of the 70's Ron Lewis - Ann was born into a sporting family.

A keen follower of all sport in the Llynfi Valley especially at Maesteg Celtic Cricket and Maesteg Rugby Clubs. Ann would be seen supporting her father, favourite Cricket and Rugby teams every Saturday for 52 weeks of the year home or away throughout her life.

Being a very colourful character Ann was never short of letting her opinion voiced in any environment She served on Maesteg Celtic CC committee in various guises as a committee member /scorer /and latterly as Chairperson for many years.

All would remember her "packed lunches during the game of a bottle of wine and a few cans of "bow" whist scoring. Always eager to let her thoughts known from the score box or from the boundary's edge. She will be sorely missed

She is survived by her son Owen

Dill Mordecai
Maesteg Celtic C.C.

The club were saddened to announce in April last year, the passing of their long-standing President, life- member and former player, Dill Mordecai.

In his playing days Dill was an accomplished medium pace bowler and canny batsman. He will probably be best remembered as an astute captain during the very successful years from the late 1950's to the mid 1960's, when the club won a record four first division titles in succession. Dill was also a talented all-rounder in other sports, he represented Celtic and Maesteg at rugby and played tennis at a high level for South Wales. During the war he served as a navigator in the R.A.F.

Dill was a founder member of the Celtic Athletic and Social Club in 1960 and was the first secretary for many years. Unfortunately, he suffered a severe stroke several years ago and lost his power of speech but battled on valiantly retaining his wicked sense of humour. He was a staunch supporter of the club until the end, sitting on top of the banking watching his beloved team come rain or shine.

A club legend but more importantly a true gentleman in all walks of life.

Howard Morgan
Dafen C.C.

The South Wales cricket community has been saddened with the news of the passing of Dafen Cricket Club's Howard Morgan. Howard was a former captain, committeeman, chairman and life member who was actively involved in the club for more than 40 years.

Howard was a middle order batsman and off spinner who was actively involved with Dafen Cricket across five decades. He was captain of Dafen's 1st X1 for a total of 11 seasons. These included championship successes in the 1964 and 1967 seasons. He was an inspirational leader and was a former captain of the South Wales Cricket Association representative side in the late 1970s. He was chosen as captain of the South Wales League touring side during the league's first tour of Australia in 1977-8.

Howard served the club in many capacities. This included a period of time in the 1960s when he put in countless hours as volunteer groundsman before a full-time groundsman was later appointed in the 1970s. Following his playing career, he became chairman of the club for seven years and was awarded the accolade of life membership of the club. Howard became an umpire of the South Wales Cricket Association following his playing days.

Howard will be sorely missed by many in the cricket community. Our deepest sympathy is extended to his children Lisa, Neil, David and their families.

Steve Lewis
Cimla C.C.

The tragic death of Steve Lewis ahead of the season's start cast a shadow over the summer of 2017 for Cimla Cricket Club.

After starting with Neath C.C. as a junior, Steve made his way up the hill to Cimla C.C. in 1979 where he played an integral part in the Club's development throughout the next decade.

He was a steady medium-paced bowler, ever-willing to complete his weekly 25-over stints each Saturday afternoon and keen to bowl more on Thursdays and Sundays when he was virtually ever-present, playing over 500 games for the Club in all and taking 600 wickets.

Steve Lewis captained Cimla 2nds to their first championship in the old Division 5 in 1991 and served for 6 years as secretary, organising many a successful annual tour to Blackpool which became a regular feature for the Cimla club.

He played his full part post-match too and liked nothing better than recalling past deeds and debating the finer points of the Games of cricket, rugby and football with his colleagues.

After joining Ynysygerwn for a short spell, he soon returned to Cimla to complete his playing days and became chairman. His packed funeral was testament to his popularity with Cimla C.C. and with the many other local clubs who were represented.

Steve Lewis always stressed the virtues of being a "good clubman"; he certainly epitomised that and already he is sorely missed by his friends and team-mates at Cefn Saeson where he will not be forgotten and where a bench is now dedicated to his memory.

Glynwyn Owen
Llangennech C.C.

Glynwyn Owen, who died in January aged 83, was a talented sportsman who played rugby and cricket for his village teams.

He came to prominence in 1954 when, at an early age, his off spin captured 27 league wickets, his best figures being 7 for 13 against SCoW. He was considered by many to have the potential to be a county player and on the advice of some knowledgeable people decided to finish playing rugby and concentrate on his cricket.

However, fate took a turn, when in February 1955 he was asked, at the last minute, to fill in for an unavailable rugby player. Just before the end of the match he suffered a severe kick to the head. Initially seeming OK, he fell unconscious at home later that evening and was rushed to Morriston Hospital.

His life hung in the balance for several weeks and when he regained consciousness his vision had been impaired to the extent that he could only see a limited amount directly in front of him. His sporting career and dreams were over.

Slowly Glynwyn was able to undertake some light duties in a bid for rehabilitation and despite his visual handicap returned to work at Trostre before ending his working days at Duport Steel in Llanelli.

During all this time, Glynwyn maintained his love of cricket and, prior to another accident which limited his mobility, would enjoy watching matches at the park. Up to the very end he would insist on supporting the club financially, as he said, "I have been a member since the war and I don't want to be thrown out now"

Stephanie Davies
Dafen C.C.

Local cricket lovers have been shocked and saddened at the passing away of Stephanie on January 1st following a short illness aged just 35 years. Stephanie was introduced to cricket at a young age through her father Peter and uncle Mike at Llanelli Cricket Club. She scored for the club's second X1 at 12 years of age and scored for the 1st X1 when she was 16. She later became scorer at Briton Ferry Steel Cricket Club and during this period scored for the Wales Ladies Senior side and Glamorgan Seconds.

Stephanie became actively involved at Dafen Cricket Club from 2005. Her love, knowledge and enthusiasm for the game was clearly evident to those who knew her and this was reflected in the way she carried out her duties at the club. She was a conscientious scorer who adopted her own innovative scoring methods, and meticulous in her attention to detail in recording statistics. Stephanie served on the club's management committee and helped out making teas. She was particularly supportive of cricket at junior level and organised functions to help finance junior cricket. For a period of time, she was responsible for overseeing junior cricket finances at the club.

Stephanie will be sorely missed by the many who knew her. Our thoughts and deepest sympathy are extended to her husband Simon, seven year old daughter Brooke, her parents Peter and Gillian and all the family.